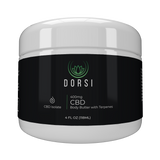 Dorsi Health
400 MG Organic CBD Shea Body Butter Luxury Cream With Terpenes
Dorsi Health Organic CBD Body Butter Cream is designed to be the perfect addition to your daily skincare routine.

It is a luxurious and therapeutic product that will help pamper, soothe and nourish your skin while providing a unique and calming effect. Our natural blend of Organic CBD and terpenes will help provide you with relief from dry, irritated skin while also calming redness. Our blend of natural extracts and vitamins work together to provide your skin with additional hydration and nourishment.
The Body Butter Cream also includes organic Aloe Vera, Pro-Vitamin B5, organic chamomile, organic cucumber, organic terpenes, organic lavender and organic rosemary - luxurious and therapeutic skin care at home or on the go in our convenient 4oz container!
Easily penetrates and absorbs into your skin
400 MG Organic CBD with terpenes per jar
100% Organic CBD derived from American grown Hemp
THC Free
3rd Party Lab-tested for continual quality and consistency